The Answer for ONScripter-EN
Welcome to the project page of The Answer for ONScripter-EN.
>English< — Français. (?)
---
Aperçu
The Answer is an instructive and uplifting tale for aspiring visual novelists.

—Download
— Cloned script (0.txt) [direct download, 3.11 MB] — full game [archive.org, 15.5 MB].
Thanks to ONScripter-EN, you are able to run the game on different platforms such as Windows, Linux, macOS or even (without our assistance) Android, OpenBSD, etc.


---
Gallery
(Miniatures = 400×300 px., full size images ≈ 800×600 px.)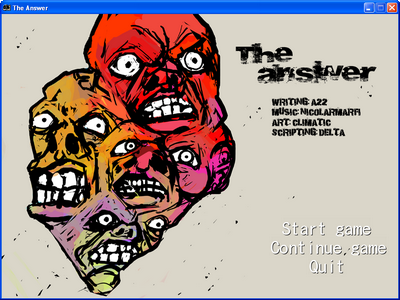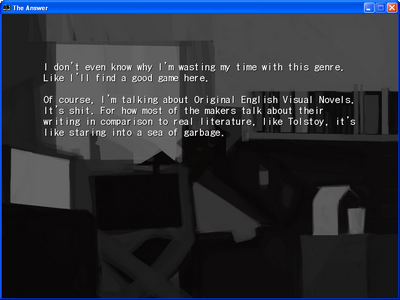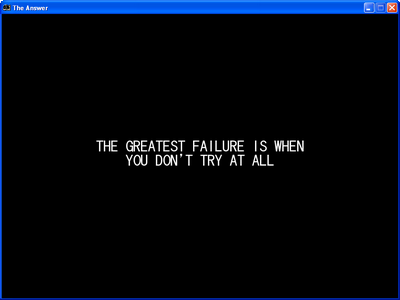 Menu (XP, W10); OELVN (XP); Do it (XP, W10).
---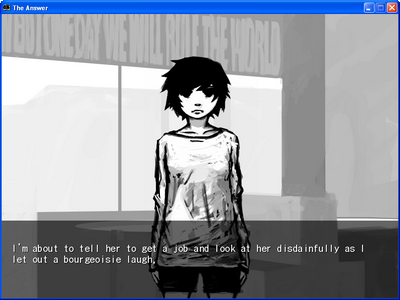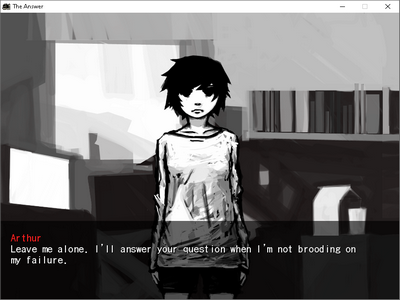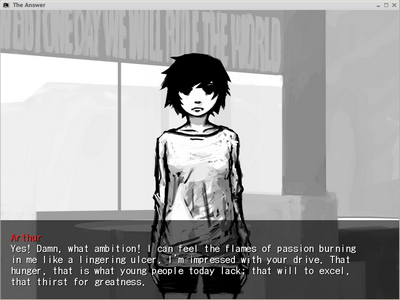 Girl (XP, W10); Failure (W10); Ambition (MX Linux, Trisquel).


---

—Thanks
Thanks to the original authors:
A22 (alias Anonymous22, scenario) - climatic (drawings) - delta (Ren'Py script) - Sebastien 'NicolArmarfi' Skaf (music);
Thanks to KAISERNET, without which the port could not have reached a stage close to perfection.








— Game released under the terms of the Creative Commons BY-NC-ND (3.0)
NOTE: As of K.S. Translation License, we believe it's fair to say it also applies
to 4LS's other works that are no longer supported which includes The Answer.
Nil is modified; the provided script is a clone for ONScripter-EN.
If you legally own this work, contact us.
--------------------------------------------------
— Port released under the terms of the Creative Commons 0 (1.0 Universal)
— ONScripter-EN is released under the terms of the GNU General Public License (v2.0).
---